SWEDES DEMONSTRATE THEY ARE NOT RUSSIANS
Rioters set cars on fire, loot shops in Stockholm suburb – police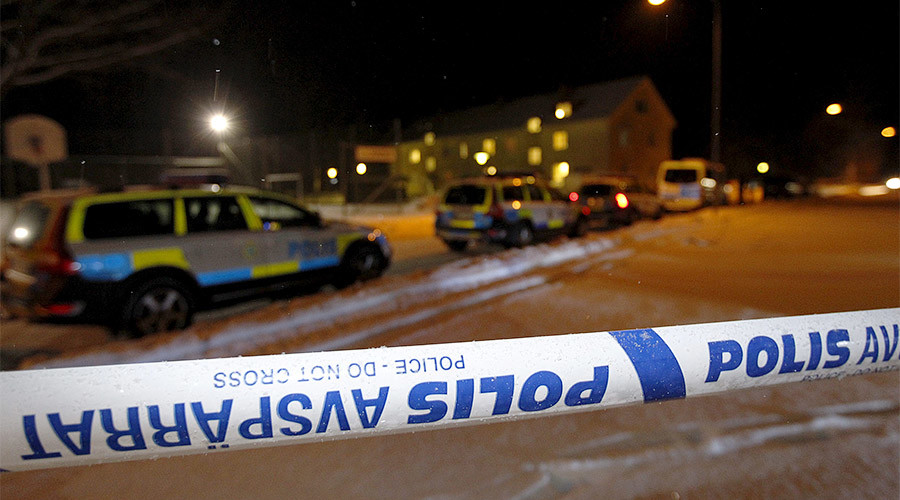 Police in Sweden were forced to fire warning shots after a group of unidentified persons ran riots in the Rinkeby district of Stockholm late on Monday, setting cars on fire, throwing stones at police and looting local stores.
A police officer was injured during the clashes, forcing law enforcers to fire several warning shots at the crowd, Swedish public service broadcaster
SVT reported
, citing a local police spokesperson.
At least seven or eight cars were burned in the area during the evening, police said in a
statement.
The unrest reportedly started after police arrested a wanted person at the subway station in Rinkeby, one of the districts with the highest number of immigrants in Stockholm, at around 8pm on Monday.
It is unclear how many people were involved in the riot, Lars Bystrom, Stockholm police spokesperson, said, adding that there were between 30-50 people.
"Some may have disappeared, others have been added, it is difficult to get a handle on how many exactly," he told SVT. "We have a fairly large number of police officers trained to handle this type of a situation."
Several shops in the area were looted during the riots. One of the shop owners, who had received an alarm signal directly to his phone, went to check on site and was beaten, SVT reported.
Police managed to restore order only after midnight.
An investigation has been launched into the violent riots and an assault against officers.
__________________________
SWEDEN RIOT: Police forced to shoot at protestors as violence erupts - yet PM is in denial
SWEDEN'S capital was plunged into chaos on Monday as police were forced to fire at rioters after a violence erupted in an area described as high risk.
The terrifying scenes took place just hours after the country's Prime Minister, Stefan Löfven, slammed
Donald Trump
for claiming
Sweden
was in crisis as a result of its liberal refugee policy.
Stockholm police were forced to fire a shot into the rampaging crowd in the hard-hit suburb of Rinkeby, after a mob of around 30 thugs started attacking the officers with rocks.
Violence erupted after the police had tried to arrest a wanted person on the subway.
Sylvia Odin, of the Stockholm police, said: "There was stone throwing and they were placed in a situation where a number of people jointly attacked and threw stones. They felt vulnerable and threatened.
A riot erupted in Sweden on Monday evening
"The initial information we received was that a warning shot [was fired] but when the picture cleared, it turned out it was for effect [meaning it was intended to hit the target]."
Another officer told
Aftonbladet
: "The police were cornered between the stone throwers and their car and shot towards the stone thrower but missed."
In addition to the police being attacked, emergency services had their hands full as 10 cars were set alight in Rinkeby.
No suspects have been arrested after the clashes, however officers are treating the incident as a riot and assault on police.
Violence erupted after the police had tried to arrest a wanted person on the subway
the weekend that Sweden
was facing a crisis after Fox News aired a segment where a gloomy picture of Sweden was portrayed.
He said: "You look at what's happening in
Germany
, you look at what's happening last night in Sweden.
"Sweden, who would believe this? Sweden. They took in large numbers. They're having problems like they never thought possible."
Hitting back at the Republican's claims, Mr Löfven said: "I was, like many others I believe, surprised by the comments made about Sweden this weekend.
"We have opportunities, we have challenges, we're working (on) them every day. But I think also we must all take responsibility for using facts correctly, and for verifying any information that we spread."
While former Swedish PM Carl Bildt roared on Twitter: "Sweden? Terror attack? What has he been smoking? Questions abound."
On Monday he added: "Last year there were app 50 per cent more murders only in Orlando/Orange in Florida, where Trump spoke the other day, than in all of Sweden. Bad."
The furious debate about Sweden's existential crisis comes as officials have placed more than
50 areas on a high risk list
where they admit they do not have control.
Former Swedish PM Carl Bildt raged against Donald Trump on Twitter
Lawless thugs are wreaking havoc unchecked, and officers are often at personal risk when entering the crisis-hit areas.
As the crisis in the Swedish police force continues to grow as they are powerless against the increasing number of violent crimes, one officer took to Facebook to share his frustration.
The former deputy chief of the serious crimes division wrote: "I'm so f***** tired. What I'm writing here isn't politically correct. But I don't care.
"Our pensioners are on their knees, the schools are a mess, healthcare is an inferno, the police is completely destroyed. Everyone knows why, but no one dares or wants to say why."