How the Catalan crisis could send shockwaves across Europe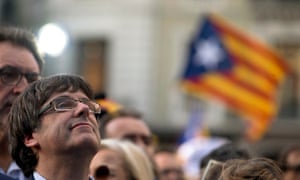 The battle for
Catalonia
just got personal. Until now the main protagonists, Carles Puigdemont, the Catalan president, and Mariano Rajoy, Spain's prime minister, have avoided a head-on clash. All that changed at the weekend after the Madrid government decided to impose direct rule. Within minutes, insults were flying, with the opposing sides accusing each other of totalitarianism and rebellion.
Puigdemont had deliberately provoked the secession crisis, Rajoy claimed. The problem was, he lacked the stature to handle such a delicate situation. "This would probably never have happened if a different person with similar ideas had been in charge," Rajoy said. In vowing to sack the Catalan leader, he noticeably declined to rule out charging him with sedition and locking him up.
Puigdemont and his vociferous allies were not slow to the counterpunch. Rajoy's actions represented "the worst attack against the institutions and the people of Catalonia since the dictatorship of Franco", he declared. This comparison with the late fascist
generalísimo
was deeply offensive. Carme Forcadell, the speaker of the Catalan parliament,
extended the historical allusion
, describing the takeover as a coup.
After Saturday night's passionate, pro-independence demonstration in Barcelona, battle lines are now being drawn and trenches figuratively dug. The senate, which is controlled by the government, is preparing to vote on Rajoy's proposals, probably on Friday. They could be pre-empted if the Catalan assembly formally declares independence this week and calls new elections. In any event, a drawn-out war of attrition looms.
Both sides are seeking to delegitimise the other's actions, claim the moral high ground and rally public support. For Rajoy, backed by the constitution, the courts, the monarchy and the main opposition parties, the argument boils down to a straightforward law and order message. "All the government is trying to do, and reluctantly, is to reinstate the legal order," Spain's foreign minister, Alfonso Dastis, said on Sunday.
Rajoy's dry, Maybot-style approach does not set pulses racing, but it has the virtue of making him appear responsible, sensible and grown-up – in contrast to Barcelona's supposed rabble-rousers. In this guise, Rajoy is France's Louis XV with spectacles and a beard, gravely intoning: "Après moi, le déluge."
The younger, less experienced Puigdemont is an unlikely revolutionary. He knows most Spaniards have no sympathy for his cause. He
cannot be certain of majority support even within Catalonia
, but as a former journalist with any eye for a headline he knows how to grab attention with a good story.
Puigdemont's evolving narrative portrays the crisis as a fight to uphold universal principles. In his speech on Saturday night rejecting Rajoy's move, he purposefully pitched his remarks at a Europe-wide audience.
Speaking in English, Puigdemont went over the heads of EU governments, appealing directly to the "citizens of Europe". The independence struggle was less a local rebellion and more an exemplary defence of shared democratic values, including self-determination, as embodied in the European charter of fundamental rights, he said.
This line of argument will cut no ice with Germany's Angela Merkel, or the French leader, Emmanuel Macron, both of whom have publicly backed Rajoy. Likewise, the EU commission
continues to hold its nose
, maintaining the convenient fiction that it has no power to intervene – in contrast, critics say, to its serial meddling in Polish, Hungarian and British politics.
Puigdemont's appeal is likely to get a
more positive reception in grassroots Europe
, where the status quo dominance of the centralised nation state is under similar challenge to varying degrees. Such areas potentially include Spain's Basque country, France's Corsica, Italy's Lombardy, Romania's Transylvania and Belgium's Flanders, where nationalist, regionalist and separatist forces are in play. There is strong sympathy for the Catalan cause in Scotland too.
The longer the Barcelona-Madrid struggle rages, and the more entrenched the opposing sides become, the greater the potential for its destabilising effects to send political and economic shockwaves across
Europe
– and stir up comparable, dormant or long-simmering independence or separatist sentiments.
Rajoy has mostly played a difficult hand with skill and patience so far, but his political capital in not inexhaustible and his minority government is vulnerable. Violence on the streets of Catalonia could change everything. The widely condemned police crackdown during this month's disputed referendum served as a warning of how a hitherto peaceful standoff can quickly turn bad.
There is also an important ideological aspect to the battle for Catalonia. Puigdemont's ruling coalition has a strong leftist bent, influenced by the hardline, anti-capitalist CUP party. If he can successfully portray the crisis as a fight against the repressive authoritarianism of an uncaring rightwing establishment elite – his view of Rajoy's conservative People's party – Puigdemont could yet emerge as a Corbyn-max standard bearer for radical European renewal.


Since you're here …
… we have a small favour to ask. More people are reading the Guardian than ever but advertising revenues across the media are falling fast. And
unlike many news organisations, we haven't put up a paywall – we want to keep our journalism as open as we can
. So you can see why we need to ask for your help. The Guardian's independent, investigative journalism takes a lot of time, money and hard work to produce. But we do it because we believe our perspective matters – because it might well be your perspective, too.
I appreciate there not being a paywall: it is more democratic for the media to be available for all and not a commodity to be purchased by a few. I'm happy to make a contribution so others with less means still have access to information.Thomasine F-R.