US Navy captain jailed over massive bribery scandal in Pacific
Saturday 26 March 2016
00.56 EDT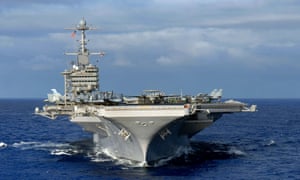 A Navy captain who oversaw operations in the US Pacific Fleet has been sentenced to nearly four years in prison for providing classified information to a Malaysian defence contractor in exchange for luxury hotel stays and the services of prostitutes.
Captain Daniel Dusek, 49, is the highest-ranking officer to be charged in one of the military's worst bribery scandals.
A US judge also ordered Dusek to pay a $70,000 fine and $30,000 in restitution to the Navy for giving ship and submarine schedules to help contractor Leonard Glenn Francis.
Francis pleaded guilty in the case in 2015, admitting that his Singapore-based port services company, Glenn Defence Marine Asia (GDMA) plied Dusek and others with meals, alcohol, luxury hotel stays and other gifts to ensure US Navy ships stopped at ports where GDMA operated.
GDMA over-billed the maritime branch by more than $34m, according to court documents.
"It's truly unimaginable to the court that someone in your position with the United States Navy would sell out based on what was provided to you – hotel rooms, entertainment and the services of prostitutes," US district judge Janis L Sammartino told Dusek, adding that he "potentially jeopardised national security."
Dusek told the federal court in San Diego that he will never forgive himself for his actions, which spanned a seven-month period starting in July 2010. His lawyer pointed out that Dusek turned himself in.
"I will hold this guilt in my heart for the rest of my life," he told the judge before being sentenced.
Francis, known as "Fat Leonard" in military circles, has acknowledged bribing navy officials with more than $500,000 in cash and a staggering amount of luxury goods worth millions, including prostitution services, spa treatments, top-shelf alcohol, ornamental swords and handmade ship models.
Ten people have been charged in the case, including five navy officials, and nine defendants have pleaded guilty.
GDMA has provided fuel, food and other services to navy ships in Asia for two decades.
Prosecutor Mark Pletcher said Dusek used his position to influence admirals to re-route ships to ports either owned by Francis or with lax oversight so fake tariffs and other fees could be imposed without being detected.
Dusek gave GDMA ship and submarine schedules dozens of times, and he deleted his email account to avoid detection, Pletcher said.
"He was the golden goose to GDMA," Pletcher said.
After Dusek got a US aircraft carrier re-routed to a Malaysian port owned by Francis in 2010, the defence contractor said in an email that the captain "is a golden asset to drive the big decks (aircraft carriers) into our fat revenue GDMA ports," according to the plea agreement.
GDMA paid for a hotel for Dusek and his family at the Marriott Waikiki in Hawaii in July 2010. A few weeks later the company got him a hotel room at the Shangri-La in Makati, Philippines, and provided him with the services of a prostitute, according to the plea agreement.
Soon after, Dusek used his influence to steer the aircraft carrier USS Abraham Lincoln and its associated strike group to Port Klang, Malaysia, a port owned by Francis.
The port visit in October 2010 cost the United States about $1.6m, according to court documents.