Isis claims dozens of Iraqi troops killed by British suicide bomber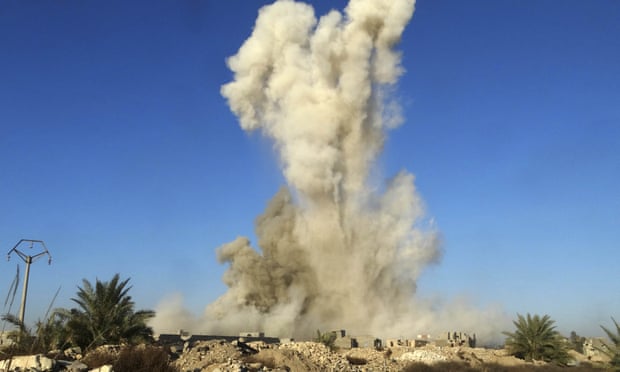 The
Islamic State
terror group has said a British suicide bomber killed more than two dozen Iraqi army troops in an attack on Monday, a claim swiftly rejected by the Iraqi military.
The man, whose nom de guerre was Abu Musa al-Britani, rammed his vehicle into a gathering of Iraqi army troops and vehicles near al-Asad air base in the province of Anbar, killing 30 soldiers, the group claimed on social media. The Britani suffix is used regularly for militants from the UK.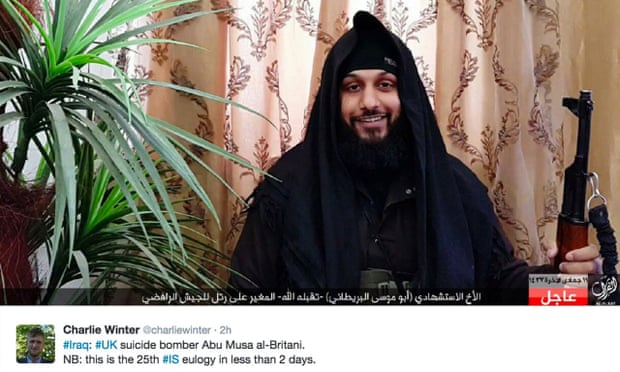 But the Iraqi military denied the report, saying the attacker had been the only victim of the explosion.
Al-Asad is also used by American marine forces stationed in Iraq. Abu Musa's real name remains unknown, but
an image circulated on social media
appearing to show him before the operation, clad in Isis's signature black garb, smiling and holding a rifle. The Guardian was not able to verify the image.
Iraqi forces are battling Isis troops entrenched throughout Anbar, after liberating the province's capital Ramadi during the winter in a major setback for the militant group.
Isis controls large swathes of territory in northern Iraq, including the city of Mosul, after surging into the country in the summer of 2014 and conquering the plains of Nineveh, as well as much of Anbar. In
Syria
, the group controls much of the country's eastern regions including its capital of Raqqa and most of Deir Ezzor.
A study carried out last year
by the Guardian and King's College London found that 50 Britons had died fighting for militant groups in Iraq and Syria in the previous three years. The total is since thought to have risen.
Shiraz Maher of King's College London's International Centre for the Study of Radicalisation (ICSR) said on Twitter that Monday's attack would take the total number of British fighters known to have been killed in Syria and
Iraq
to 62, "of which 10 have been suicide bombers".
The Soufan Group, a respected security consultancy and think tank, estimated in late 2015 that between 27,000 and 31,000 foreign fighters had traveled to Syria and Iraq to fight alongside militant groups, including 760 from the UK alone – nearly double the 2014 estimate of 400 fighters.
Isis has prominently featured British foreign fighters in its propaganda, including Mohammed Emwazi, who appeared in brutal execution videos that documented the killing of several western journalists and aid workers.