Farage's Stinging Message To Clegg: I Told You There'd Be An EU Army
9 November 2017, 20:26
Nigel Farage has issued a stinging "told you so" message to Britain's former deputy prime minister days before a number of EU states look set to sign a new defence pact.
In 2014 during an LBC head-to-head debate, Nick Clegg told Nigel the idea of an EU army was a "dangerous fantasy" which "simply was not true".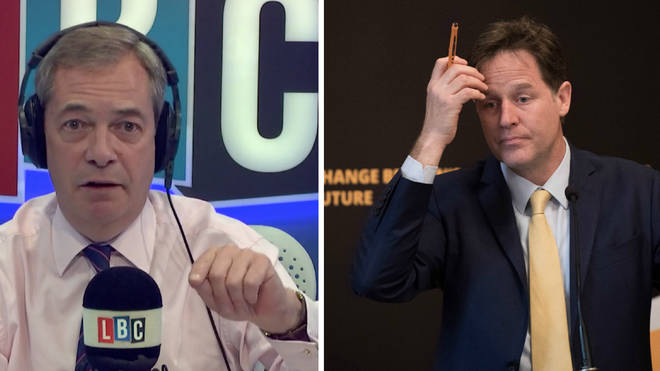 Then, in September the President of the European Commission, Jean-Claude Juncker, said by 2025 the EU needed "a functioning European defence union".
And on Monday, at least 20 countries in the bloc will agree on a new defence collaboration pact covering troops and weapons - known as the Permanent Structured Cooperation.
Reacting to this latest revelation on his nightly LBC show, Nigel was absolutely seething as he tore in to the former Lib Dem leader.
He fumed: "It's very interesting isn't it?
"When you're told by people that the Leave camp lied in the referendum because of some numbers on the side of a bus that may have been slightly over inflated, compare that with the lies we've had for half a century from Nick Clegg and the others - a European army is happening."