Nominating Clinton risks "disaster simply to protect the status quo" Sanders campaign says
WEDNESDAY, MAY 11, 2016 03:50 PM EDT SALON
Bernie Sanders is not giving up. He is still in this to win, and his campaign is ramping up its rhetoric.
In an email sent out on Wednesday, Bernie 2016 campaign manager Jeff Weaver declared plans to push for a contested convention in Philadelphia in July.
By nominating Hillary Clinton, Weaver insisted, the Democratic Party would be risking "disaster simply to protect the status quo" in the U.S.
"We're going to have a contested convention where the Democratic Party must decide if they want the candidate with the momentum who is best positioned to beat Trump, or if they are willing to roll the dice and court disaster simply to protect the status quo for the political and financial establishment of this country," he wrote.
The U.S. political and financial establishment has long made it clear that Clinton is its preferred candidate.
In the latest Sanders campaign email, Weaver cited three polls released on Tuesday that show Clinton facing a potential tough race with Trump in a national election.
A Quinnipiac University poll of crucial swing states found Clinton narrowly winning Florida and Pennsylvania, but losing to Trump by 4 percent in Ohio. Sanders would more comfortably win all three, according to the poll.
"This is pretty scary," the Bernie 2016 campaign manager said. He posed Sanders as the biggest threat to Trump.
"For months, Bernie Sanders has out-polled Hillary Clinton against Donald Trump, and often by extraordinarily large margins," Weaver wrote.
He blasted the Democratic establishment for using right-wing talking points to criticize Sanders' left-wing policies.
"We've been told our goals for the future are Utopian, and that our plans would raise taxes on middle class families. We just never thought those attacks would come in a Democratic primary," Weaver said.
"Yet somehow we keep winning," he added.
Sanders has won 19 states in the primary — more than Clinton. Hillary, however, has won many of the more populated states, giving her more delegates.
Clinton has 1,716 pledged delegates, or 54 percent of the total, whereas Sanders has 1,433, or 46 percent.
The undemocratic superdelegate system has, in particular, given Clinton an unfair edge. She has repeatedly lost states by double digits, but still come out on top with more total delegates, because the unelected party elites who serve as unpledged delegates have overwhelmingly thrown their weight behind her.
Joe Scarborough, host of the popular MSNBC program "Morning Joe" joined countless frustrated Americans in pillorying the "rigged" electoral system.
"Why does the Democratic Party even have voting booths? This system is so rigged," Scarborough exclaimed in a segment in April.
Sanders is mathematically unable to win with pledged delegates alone, however, so his campaign has recently changed course and begun trying to woo superdelegates to his side.
The Bernie 2016 campaign has asserted that it is still in this win, and sees a contested convention as the way forward.
"Because we must do everything we can to defeat Trump in November our mission is to win as many pledged delegates as we can between now and June 14th," Weaver wrote.
He closed the latest email with an expression of solidarity.
"We are the best chance to defeat Trump because people united can never be defeated," the message concluded. "That is why we must keep fighting."
__________________________________________
__________________________________________
WHAT ABOUT THIS:
Hillary Clinton's 'hacked' Benghazi emails: FULL RELEASE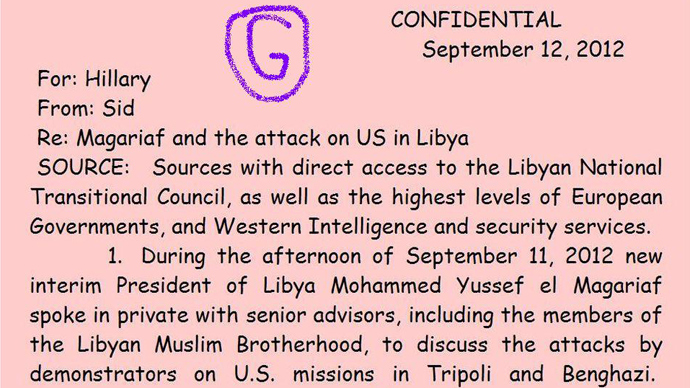 On the back of widespread public interest RT has decided to publish in their entirety a series of memos which were allegedly sent from a one-time White House aide to former Secretary of State Hillary Clinton.
The emails, which were
allegedly sent
by former political adviser Sidney Blumenthal to Secretary of State Hillary Clinton, were forwarded to RT by a hacker using the alias "Guccifer."
Guccifer was credited with hacking the AOL email account of Blumenthal last week, though the authenticity of the emails has not been verified.

The purported memos appear to contain sensitive information regarding the September 11, 2012 attacks on the US diplomatic mission in Benghazi, Libya, as well the January 2013 hostage crisis in In Amenas, Algeria.
Blumenthal has been refraining from comments so far. RT reached Blumenthal's son Max, who confirmed that his father will not be making any remarks about the leak.

In the leaked emails distributed to the media, Guccifer copied and pasted the correspondences into new files using bold Comic Sans text layered over a pink background, possibly as a security precaution. The letter 'G' on the memos appears to be the hacker's watermark.

Below are 4 letters dating from September 12, 2012-February 16, 2013. Any omissions are unintentional, as we are publishing all of the information that has been provided to us in the interest of full disclosure.

Below are 4 letters dating from September 12, 2012-February 16, 2013. Any omissions are unintentional, as we are publishing all of the information that has been provided to us in the interest of full disclosure.
Excerpt missing
Excerpt missing
Excerpt missing