Putin: Trump different in real life than on TV, we can restore relations with US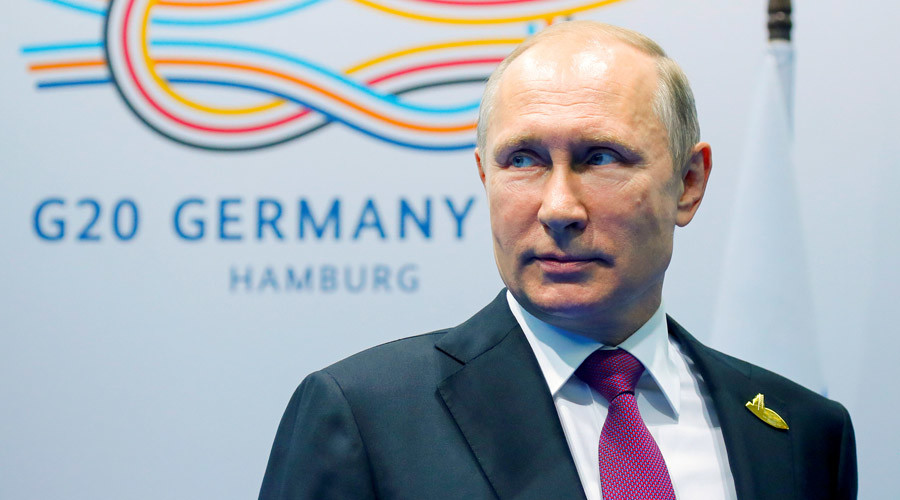 The Donald Trump seen on television is different from the one in real life, Russian President Vladimir Putin said at the G20 summit, adding that after his meeting with the US leader in Hamburg, he felt like relations between the two countries could at least partially be restored.
"As for personal relations, I think that they are established," Putin said of his meeting with Trump.
"I think that if we continue building our relations like during our conversation yesterday, there are grounds to believe that we'll be able to – at least partially – restore the level of cooperation that we need," Putin said.
Putin said that the issue of alleged Russian meddling in the US election was addressed by Trump during their conversation.
'Phone talks obviously not enough': Putin & Trump meet on sidelines of G20 summit (VIDEO)
"He [Trump] asked many questions on that subject. I answered those questions as best I could. I think he took it into consideration and agreed with me, but you should really ask him how he feels about it," the Russian president said.
On Friday, the first day of the summit, Putin held a long-awaited meeting with his US counterpart, Donald Trump, with whom he discussed international issues including a Syria ceasefire, the Ukraine crisis, cybersecurity and fighting terrorism.
The meeting, which lasted more than two hours instead of the planned 30-40 minutes, showed a "positive chemistry" between both leaders, who "connected quickly," US Secretary of State Rex Tillerson said.
After the meeting, US and Russian officials announced a ceasefire agreement in southwest Syria, set to take effect on July 9. The ceasefire applies to the southern Daraa, Quneitra and As-Suwayda provinces.
The leaders also agreed to create a bilateral channel to promote a settlement of the Ukraine crisis, Russian Foreign Minister Sergey Lavrov said, adding that the crisis was discussed "in a concrete, businesslike" manner.
'Positive chemistry' between Trump & Putin at first meeting – Tillerson
Also on Friday, the Russian president held a meeting with South Korean counterpart Moon Jae-in, with whom he discussed North Korea's latest "provocation" in the form of a missile test and the need to "keep cool heads" to defuse tensions on the Korean Peninsula. Putin underlined the importance of adopting a rational approach when dealing with Pyongyang.
On Saturday, Putin met French leader Emmanuel Macron and German Chancellor Angela Merkel for a working breakfast on the sidelines of the G20 summit. The leaders agreed on the importance of implementing a ceasefire in eastern Ukraine.
The leaders understand "it is necessary to take effective measures that would result in a genuine ceasefire on the frontline and to ensure the withdrawal of heavy weapons," Putin's spokesman, Dmitry Peskov, told journalists on Saturday.
Also on Saturday, Putin
met
Turkish President Recep Tayyip Erdogan to discuss bilateral cooperation and the issue of a Syrian settlement. Putin noted that due to Ankara's efforts to fight Islamic State (IS, formerly ISIS/ISIL),
"the situation in Syria has changed significantly for the better"
and
"terrorist groups have suffered a major blow."