Turkey's outlawed Kurdistan Workers' Party says the conditions for maintaining a ceasefire with Ankara is no longer in place. This, after Turkish warplanes bombed PKK positions in northern Iraq.
Two Turkish soldiers killed as tensions mount
Sunday 26 July 2015 11.32
Two Turkish soldiers were killed and four wounded in a car bomb attack on their convoy in the mainly Kurdish southeast of the country, officials said.
The attack came after the Kurdistan Workers Party (PKK) rebel group threatened to no longer observe a truce, following Turkish air strikes on its positions in northern Iraq.
It comes after a wave of unrest triggered by a suicide bomb in Suruc, blamed on so-called Islamic State which killed 32 people.
There have been a number of protests and confrontations with police in Ankara and Istanbul.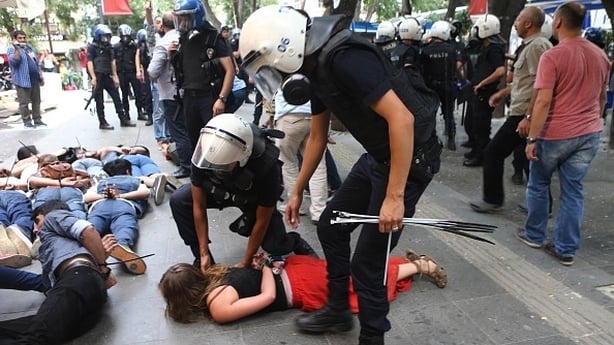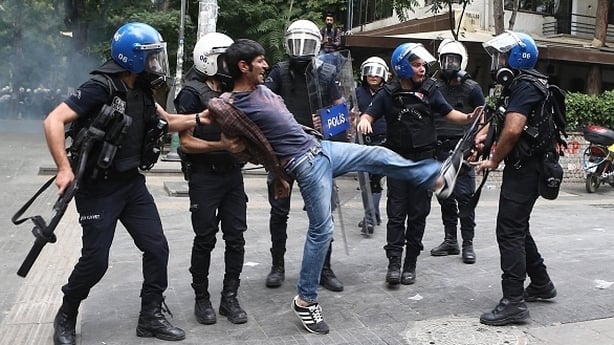 The car bomb went off as the soldiers were travelling on a road in the Lice district of the Diyarbakir province late yesterday, a statement from the Diyarbakir governor's office said.
"Two of our personnel were killed in the heinous attack, four were wounded," said the statement.
It said that large-scale operations have been launched to find the perpetrators.
The PKK had yesterday said that the conditions were no longer in place to observe a fragile ceasefire that has largely held since 2013.
It followed the heaviest Turkish air strikes on its positions in northern Iraq since 2011.
The PKK has for decades waged a deadly insurgency in the southeast of Turkey for self-rule that has claimed tens of thousands of lives.
A peace process that began in 2013 has so far failed to yield a final deal.
Meanwhile, the White House has said it welcomed Turkey's increased focus and efforts to fight Islamic State, and called the Kurdish militant PKK in Turkey a "terrorist" organisation.
The comments were made at a news briefing in Nairobi by a White House official during a visit to Kenya by US President Barack Obama.
Rally against IS to take place in Dublin
Meanwhile, hundreds of demonstrators are expected to gather on Dublin's O'Connell Street later to protest against the actions of the self-styled Islamic State.
The rally has been organised by the Irish Muslim Peace and Integration Council to distance Islam from the group, and show that it is a peaceful religion.
The "Not in Our Name" demonstration was organised in the wake of last month's terrorist attack in Tunisia which killed 38 people, including three Irish citizens.
Organisers say it is believed to be the first protest of its kind held in Ireland.
Keywords:
pkk,
turkey
GENERAL JOHN ALLEN ON ISIS IN FEBRUARY HEARINGS
Being reported today According to the Turkish newspaper Hurriyet Daily News, the deal, treated by the Turkish side as a "secret cabinet decree," also includes plans for a "buffer zone" in northern Syria, something Ankara has long demanded as a means of escalating the war for regime change in Syria.
Gen. John Allen, Obama's special envoy to the so-called coalition against ISIS, denied this during an appearance at the Aspen Security Forum in Colorado Thursday, saying that it "was not part of the discussion."
State Department spokesman Mark Toner, however, cast doubt on this denial, stating in Washington that, while the Obama administration has concerns "about some of the logistical challenges inherent in a buffer zone…we obviously take threats to Turkey's border seriously… So, we're looking at options," he said.
If this "option" is included in the deal, Turkey's entry into the anti-ISIS campaign is being joined with a qualitative escalation of the US intervention in Syria.
: